Imagine you're taking a routine visit to your grandparent's home, and you step outside to play with a friend. A storm is brewing, and then out of nowhere lightning strikes. 
Such was the case for a 12-year-old Arizona girl, and thanks to the quick instincts of her father, Ella Jorgensen is alive today.
"Just seemed like any other normal day when it comes to the rain here in Arizona," Ella's father Steven Jorgensen said. 
He shared that Ella was just headed outside when thunder started to rumble. In a matter of seconds, lightening struck Ella.
Luckily doctors believe that the lightning didn't hit Ella directly, but rather the lightning hit near her, which took her down in a heartbeat. Her father Steven dove into action — literally.
While emergencies can catch you off guard, Steven is a former Marine and is therefore trained to handle urgent situations. Nevertheless it is a bit scary when it's your own daughter. 
"I got her heart back going, I got her breathing, and it was only for a short amount of time, so I lost it again," Steven said. "Had a quick panic, started again, and then I got her heart beating back again for a little bit longer."
Ella flatlined three times, and each time her father revived her using CPR. His military experience saved his daughter's life.
Dr. Kevin Foster, director of the Arizona Burn Center where Ella was sent to recover, said she has some blisters and minor burns, but she is otherwise okay.
"She is basically unscathed," Kevin said. "It's amazing."
While the presence of lightning during a rain storm is not uncommon, it is rare to actually be struck by it. The Centers for Disease Control puts the chances of being struck by lightning at less than one in a million in any given year.
Statistically, about 90% of lightning strike victims survive. Although, according to the National Weather Service, in 2022 alone 19 people in the United States have died by lightning.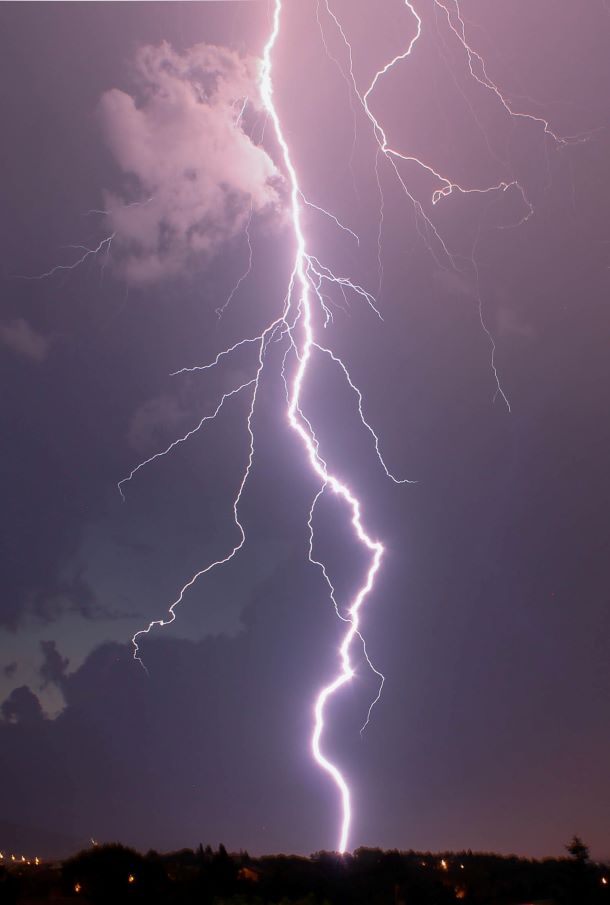 It was not meant for Ella to bring the U.S. lightning fatality list to 20. And her father couldn't be more grateful. Doctors credit him for saving Ella's life, but for him, he was just being a Dad.
"I'm just a Dad taking care of his daughter," Steven said. "Trying to keep calm over the whole situation, the scene from 'The Office,' the CPR training scene, kicked in my head, and you can hear me singing the Bee Gees' 'Staying Alive' as I'm giving her resuscitation."
As expected, Ella doesn't remember much about the incident. She was rushed to the hospital and things were happening very quickly. Her parents explained to her what occurred as doctors removed her breathing tubes, and she remained positive throughout the situation. 
"When they were taking the breathing tubes out, that's when she was trying to figure out what happened," Steven said. "I broke the news to her that she got struck by lightning. She didn't believe me at first, and once they got the tubes out and her mom told her again, she just looked at her mom and said, 'I'm going to have a cool story to tell forever now!'"
Ella has quite the story indeed!

Share this story with a friend to celebrate her recovery.
Want more good news?
Sign up for Smile, our free daily good news email with over 600,000 happy and optimistic subscribers!
Want to be happier in just 5 minutes a day? Sign up for Morning Smile and join over 455,000+ people who start each day with good news.